We've got a good thing going here at Tenten. Sure, there's always room for improvement, but I think we have a good system in place for working with clients and our remote team. But in order to keep everything running smoothly, we rely on a particular set of skills — erm — tools.
All of these tools are SaaS and make running every aspect of Tenten a snap. Seriously, I don't know what we'd do without this stack. So, if you're curious as to what we use to keep operations flowing –which helps us to keep your sites fast and secure — keep reading.
Our team at Tenten helps website owners, agency partners and freelancer partners run their WordPress sites with the latest, greatest tools. Whether you need us to manage 1 website or support 1000 client sites, we've got your back.
Business & Team Management Tools
We use Notion to onboard new customers and manage all our internal projects and custom development projects. Then Jira powers our 24/7 support desk. These pieces of software are central to the great work we do for our customers!
Slack does for us what it pretty much does for everybody; replaces internal email. We're also able to hook most of our other SaaS tools into it so it becomes a central communication hub for just about everything we do.
---
HubSpot Calendar helps our team easily schedule care plan discovery and white-label eligibility calls with anybody easily regardless of their timezone. Plus it hooks right into our Google Calendars so we can avoid double booking.
---
We do all our internal meetings and sales calls via Zoom. It's an easy and really reliable way to do video calls and make our remote team feel like we're all in the same room together and helps personalize things when we're talking to prospective customers. Plus, it works well to host our monthly webinars for WordPress professionals.
---

Woah, these guys use some pretty dope #SaaS tools to run their business! #WordPress Click To Tweet## Payments & Finances
Like most companies these days, we use Stripe to accept 95% of our payments (~5% is through PayPal). I want to spend my time on improving MRR, not how I'm accepting that revenue. Stripe is easy to use and implement, so for us, it's a no-brainer.
---
Stunning connects into our Stripe account and reduces churn by managing our clients' credit cards. It automatically emails them when they need to add new payment details or if their credit card is about to expire. Plus it's all automated so all this happens magically in the background.
---
We track everything we do financially via Quickbooks. Balance sheets and P&L statements may sound boring, but they give me the insights to make business decisions based on the financial health of Tenten.
---
Gusto handles everything HR for us. Payroll is a breeze and they even handle taxes so we don't have to worry about it. It even helps you find and offer benefits to your employees through their system.
---
Jilt works perfectly with Easy Digital Downloads to help us recover abandoned carts. When people don't complete their purchase, Jilt sends an automated email sequence to push them towards check out.
Email, Chat & Social Media
ConvertKit is what we use for all our email automation. By tagging subscribers, we can easily segment our audience and send people emails they actually enjoy reading.
RightMessage makes changes to wpbuffs.com based on how a subscriber is tagged in ConvertKit. Now direct customers, freelancers and agencies will all see something different when they click through to our website. This personalization means more targeted messaging and significantly higher conversion.
15Five helps us take feedback from our team to another level. This tool lets us drive a high-performing culture in a systematic way, keep our whole team on the same page, and helps us keep our velocity high.
HubSpot is the sales CRM we use for all our sales activity as well as livechat. It's simple, intuitive, and most importantly, easy to use. It's really a great way to connect with website visitors and answer any questions they have about our care plans or white-label program.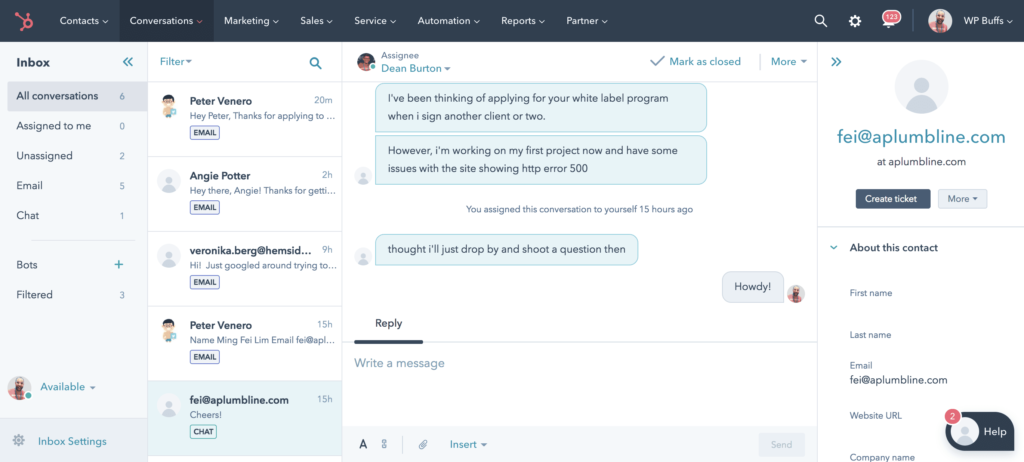 Boomerang sends reminders to my inbox so I don't have to remember when to follow up with friends, potential partners or sales leads. Plus, their Inbox Pause feature allows me to only have email populate in my inbox at certain times of the day. This means I can actually escape from email and work on impactful work.
Buffer allows us to schedule social media posts in advance and track our success on each platform. Batching social media posts instead of doing individual posts saves our team a ton of time.
---
Sumo is our tool of choice when it comes to email collection. New visitors > email subscribers > new customers is our primary marketing channels and Sumo helps us convert email subscribers in a non-invasive, positive way.
Analytics
Hotjar helps us get to know our audience on a personal level. Through click funnels, heatmaps, video recordings, and user polls, we can connect with our website visitors and engage in marketing that resonates with our visitors.
Baremetrics takes all the data in our Stripe account and spits out highly actionable data that's essential for business growth. It gives us LTV, MRR, ARPU and much more in real-time and I can now spend my time making changes to improve in those areas.
Converting new website visitors into customers is mission critical, so we get analytics support from Hitmetrics. They handle all our analytics and data analysis so we can optimize our sales funnel to perfection.

This list of #SaaS tools just keeps getting better and better! #WordPress Click To Tweet## Website Management & SEO
ManageWP is the hub and single dashboard from which we manage websites for all our customers. Amazon S3 backups, uptime monitoring, security and performance scans, safe updates, WooCommerce transactions weekly reports and much, much more make fully managing hundreds of websites a breeze.
Are you using two pieces of software that you need to connect or talk to each other? Chances are Zapier has an integration for them. This app is the glue that holds a few of our systems together and allows them to function seamlessly as one.
---
We're big into inbound marketing and Advanced Web Rankings (Cloud) tracks all our keyword rankings for us. This way we know how wpbuffs.com is performing in the SERPs on a regular basis.
Another of our big inbound marketing tools is SEMrush. It's strongest in helping us do keyword analysis as well as competitor research so we can know the exact kind of content to write that will drive the most qualified traffic to our website.
Writing & Editing
Copyscape Sentry protects all our online content from being plagiarized by those who want to pass it on as their own work. When somebody steals our content word-for-word, Copyscape finds it and sends us a warning so we can submit that page and website to Google. This keeps our content, our strongest marketing asset, undiluted and original.
I get annoyed when I have to type the same sentence or message over and over again. TextExpander solves that problem for me completely. It gives me small snippets of text that I can write and expands it automatically into full sentences, paragraphs, and even code snippets.
When it comes to email, data storage, shared calendars and Google docs, I need them all to run my businesses. G Suite is the easy choice here. It's cheap, powerful, and easy to use when it comes to both basic and advanced features.
Creating graphics for your blog posts and social media accounts can be a drag. Unless you have the right tools on hand. Canva is my go-to quick and easy image creation tool, ideal for making infographics, blog headers, and customized images to add to tweets. With so many free templates to choose from, Canva is a must-have resource to have on hand when you want to make your content pop.
Miscellaneous
We love our Bufftastic tee shirts and even buy them for customers, partners, and email subscribers! We use Printful to easily order customized designs at scale. And they're oh-so soft.
We're big believers that a healthy body correlates with a healthy mind. With a subscription to Romwod everyone on our team can stay stretched out, increase flexibility, and just feel good physically.
---
Hopefully, this collection of tools and the descriptions of how we use them here at Tenten will inspire you to evaluate your workflow to see what aspects could use some assistance or refining. No two companies are exactly alike, so what works for us might not work for you. Ultimately, you'll need to try some of these tools on for size to see if they'll address your needs.