Step 1: Begin with the EFI
STEP 3.4: GIGABYTE / ASUS MOTHERBOARD USERS ONLY
A checkbox needs to be set in your config.plist in order to prevent the computer from restarting instead of properly shutting down. Follow this step only if you have a Gigabyte or ASUS motherboard otherwise move on to Step 4.
Open config.plist with Clover Configurator
Highlight Acpi on left column
Under fixes check FixShutdown
Save config.plist
STEP 3.5: ASUS / ASROCK / MSI / MOTHERBOARD USERS ONLY
Open config.plist with Clover Configurator
Highlight Boot on left column
Under Arguments press the drop down arrow next to darkwake
– Select darkwake = 1 if using an ASUS motherboard
– Select darkwake = 8 if using an ASROCK or MSI motherboard
Save config.plist
Bios
Virtualization : Enabled
VT-d : Disabled
XHCI Hand-Off : Enabled
Legacy USB Support: Auto/Enabled
IO SerialPort : Disabled
Network Stack : Disabled
XMP Profile : Auto / Profile 1/Enabled
UEFI Booting set to Enabled and set Priority over Legacy
Secure Boot : Disabled
Fast Boot : Disabled
OS Type: Other OS
Wake on LAN : Disabled
Based on the GPU you're using change the following settings:
Dedicated graphics card:
Integrated Graphics : Disabled
Graphics: PEG/PCIe Slot 1
Initial Display Output : PCIe 1 Slot
Intel iGPU:
Integrated Graphics : Enabled
Graphics: IGD/Integrated/iGPU/CPU Graphics
DVMT Pre-Allocated : 128M
---
STEP 6 – IMPROVING SLEEP
If you don't want your hackintosh turning on in the middle of the night you need to disable two settings.
Open the Settings App
Click Energy Saver
Uncheck
Uncheck Wake for Ethernet Network access
Uncheck Enable Power Nap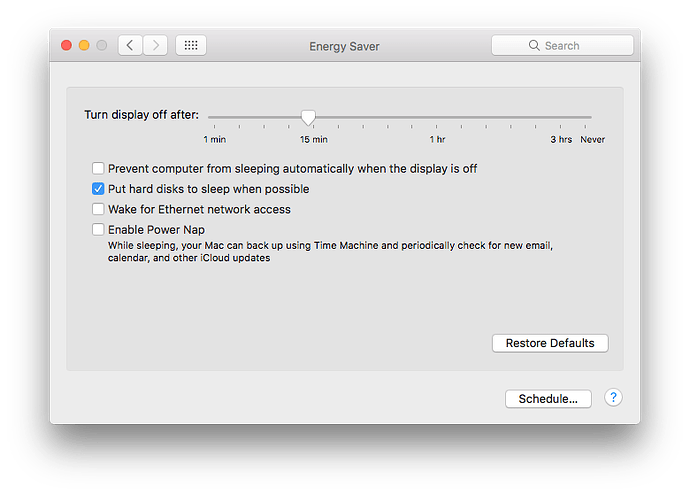 STEP 7 – GRAPHICS CARD
To get Nvidia graphic cards working in High Sierra you need to enable SIP temporarily to prevent being locked out after the Web Drivers install see:
→ HOW TO PROPERLY INSTALL NVIDIA DRIVERS ON HIGH SIERRA 10.13 ←